The University of Toronto Summer Psychology Research Initiative (SPRINT) is a summer program for high school students to learn about a broad range of psychology topics and gain research experience. Participants will have the opportunity to work directly with undergraduate and graduate student mentors, who will provide feedback on research proposals and offer insight into the various fields of psychology research.
SPRINT is an anti-racist initiative to support BIPOC (Black, Indigenous, People of Color) students, with a focus on countering anti-Black racism and colonialism. Students from these racialized groups have historically been underrepresented in psychology research, especially as they progress through increasing levels of higher education. It is duly important to represent racialized persons in psychology, as it produces tools, trainees, clinicians, and research that can better serve the needs of its communities beyond the academic setting. Therefore, students interested in applying for SPRINT will be accepted based on a specific selection and priority criteria. See "Who is eligible for SPRINT" for more information.
QUICK SPRINT RUNDOWN
How long is the program? SPRINT is an intensive 10-day program. Attendance is required, so please be mindful of the time commitment of the program. Exceptions will be made for excused absences.
When is the program? Typically, the last 2 weeks of July (Monday - Friday). This year, SPRINT will take place July 17-28, 2023.
Where is the program? SPRINT is held in person at the University of Toronto St. George campus, but this may change to a virtual delivery platform in response to changing COVID-19 regulations as advised by the University of Toronto.
Does the program cost anything? No, SPRINT is free for all interested students. Costs for travel to and from downtown Toronto may also be subsidized.
Information for SPRINT 2023
Registration for SPRINT is now closed! Please check back in April-May 2024 to apply for Summer 2024.
If you applied for SPRINT 2023, results will be sent to the email address you indicated in your application 14 working days after the application deadline.  Thank you for your patience and please email uoftpsycomm@gmail.com if you have any questions or issues related to your submission.
This year, SPRINT 2023 will take place from July 17 – July 28, 2023 in person at the University of Toronto St. George campus.
Please see below for more information on the eligibility criteria & applicant selection process. For any questions or comments about the program, please contact uoftpsycomm@gmail.com.
If you are a current undergraduate student, graduate student, or postdoc at UofT interested in volunteering with SPRINT please see the Interested in volunteering with SPRINT? section at the bottom of the page, and email us at uoftpsycomm@gmail.com.
*New for 2023* - Two SPRINT Streams
The research stream (mentorship and group work) is the full SPRINT experience from 10 AM to 4 PM. Participants will attend lectures in the morning, workshops in the afternoon, and be matched into mentorship groups. They will work together to develop their own research proposal and present it at the end of the program.

The research stream is ideal for students interested in pursuing postsecondary research psychology programs and who want to build a good foundation of experience and skills. They will spend an extra hour (3 - 4 PM) each day working in groups to produce a research project and present it at the end of the program.

The lecture stream (lecture and workshop focus) participants will attend lectures and workshops from 10 AM to 3 PM and have access to all course materials.

The lecture stream is aimed at students who are unsure about studying psychology, but are interested in the topic. Participation in SPRINT lectures provides a great learning environment and exposure to modern psychology research and concepts.
Why should you participate in SPRINT?
Students who participate in SPRINT will have the opportunity to learn about a wide range of topics in psychology through typical lectures, interactive panels, live demonstrations, and hands-on activities, similar to students pursuing an undergraduate degree. Students will also have the opportunity to meet current researchers in the field, learn about new ground-breaking studies, and gain hands-on experience by creating a research project proposal. As well, students will connect with current undergraduates who can answer questions about university life. Finally, students will meet other high school students from Ontario who all have a shared common interest in psychology. It's a great way to make new connections!
Here's what past SPRINT participants had to say about the program:
I really enjoyed the in-depth lectures and all the information that was very well taught. I learned many useful concepts and skills.
I liked being able to work with people who were interested in the same topics. I also liked the relationship with the mentors, being able to talk and ask questions.
Everyone was so enthusiastic and this positive environment simply increased my motivation to learn more about areas in psychology.
Who is eligible for SPRINT?
All Ontario high school students are eligible to participate, but applications from high school students who identify as Black, Indigenous, and People of Colour will be prioritized during the selection process. In addition, past applicants who were not previously selected and applicants who have not participated in the program will be prioritized. Applications that are incomplete and/or do not meet the word count will not be considered in the selection process. Please see below for more information on the selection process.
Application Selection Process
Successful applicants will be chosen using the following 4-step selection process outlined below: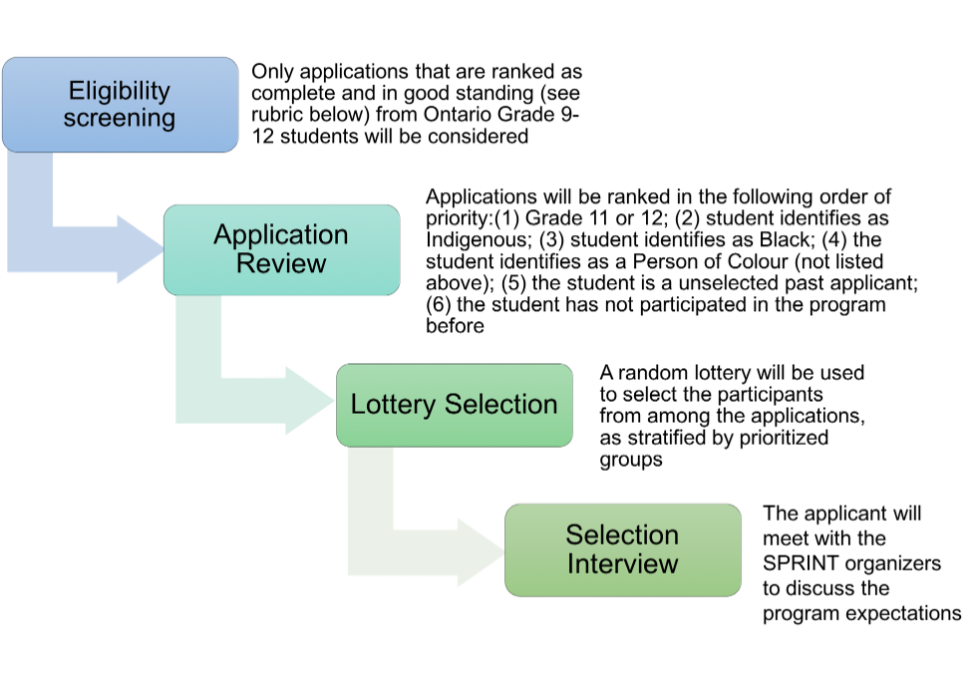 Graphic text:
Eligibility Screening

Only applications that are marked as complete and in good standing* from Ontario Grade 9-12 students will be considered
*Good standing: Application meets the word count, and applicant demonstrates a strong interest in psychology research, including intentions to pursue the field academically and/or professionally in the future.

Application Review Process

Applications will be ranked in the following order of priority:

The student is in Grade 11 or 12
The student identifies as Indigenous
The student identifies as Black
The student identifies as a Person of Colour (not listed above)
The student is a past applicant who was prioritized for selection but was not accepted into the program due to limited program space
The student has not participated in the program before

Lottery Selection

A random lottery will be used to select the participants from among the applications, as stratified by prioritized groups

Selection Meeting

The selected applicant will meet with the SPRINT organizers to discuss the program expectations
Why are some identities prioritized in the selection process?
SPRINT was launched as an anti-racist initiative to provide BIPOC high school students with access to psychological research experience. We seek to center Black and Indigenous students, which is well-aligned with the recommendations of the University of Toronto Anti-Black Racism Task Force and the Steering Committee for University of Toronto Response to the Truth and Reconciliation Commission of Canada. The legal framework that allows for certain identities to be prioritized in diversity initiatives has been summarized by the Ontario Human Rights Commission.
Our decision to prioritize Ontario high school students is due to access to the program's location. Specifically, the program will be held at the University of Toronto St. George campus in downtown Toronto. Furthermore, applicants in Grades 11-12 are prioritized to ensure students who cannot apply to future iterations of the program again can access the opportunity this year.
What topics will you learn?
Throughout the two-week program, you will receive lectures, tutorials, and panels from UofT researchers and specialists on topics related to psychological research and experimental design, including but not limited to:
Psychological specialties of research (e.g., Social, Cognitive, Developmental, Clinical, Neuroscience, Animal Behaviour)
Experimental Methods, Coding, and Statistical Analyses
Writing and Communication
Careers in Psychology and Applying to UofT
Open Science and Equity, Diversity, and Inclusion in Science
Please let us know if there is a topic that you are particularly interested in when applying. We try our best to tailor the program based on the interests of the current year's participants.
What does a typical SPRINT day look like?
SPRINT runs Monday to Friday from approximately 10:00 AM to 4:00 PM (times subject to change). Here is the schedule for SPRINT 2023:
10:00 AM - 11:00 AM: Lecture 1
11:00 AM - 12:00 PM: Lecture 2
12:00 PM - 1:00 PM: Lunch
1:00 PM - 2:00 PM: Tutorial
2:00 PM - 3:00 pm: Tutorial (continued) / Work period
3:00 PM - 4:00 PM: Project Group Meeting (research stream only)
4:00 PM - 5:00 PM: Optional - Computer Lab (Self-study or research project work)
Check out the research projects from our amazing students from SPRINT 2022!
Interested in volunteering for SPRINT?
SPRINT is always in need of volunteers with various levels of expertise (e.g., undergraduate students, graduate students, and post-doctoral researchers). Core-logistics team members meet weekly during the semester to plan and organize the SPRINT program - new members are welcome to join at any time! Around March/April, we will be seeking volunteers to serve as lecturer, panelists, and mentors to help deliver content to the SPRINT students.
If you are interested in volunteering, please fill out this form or email us at uoftpsycomm@gmail.com.
SPRINT core-logistics team members: Jennifer Chan, Bryan Hong, Logan Doyle, Alexa Sacchi, Sagana Vijayarajah, Ashley Yim, & Marim Adel
Follow us on Social Media for the latest updates!
Instagram: @uoftpsycomm & Twitter: @uoftpsycomm
SPRINT has been generously funded by the School of Graduate Studies, Teaching in Arts & Science, and the Department of Psychology.